ARTRIBUNE
DAL 2011 – ARTE ECEETERA ECCETERA
Clen Gallery, una nuova pop-up gallery italiana a New York. Immagini dalla mostra proposta da Clelia Zolli a Chelsea, NY
| domenica, 19 aprile 2015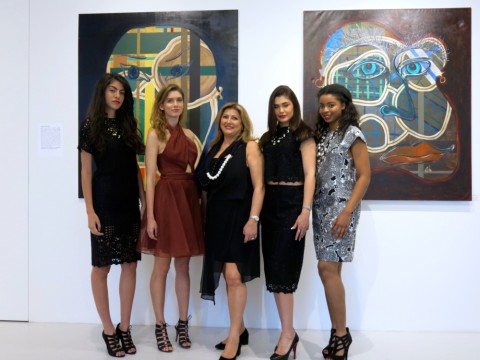 Clen Gallery, New York – Al centro della foto Clelia Zolli
Una nuova pop-up gallery newyorkese ma con dna italiano conferma l'affermarsi di questo concept e ribadisce un interrogativo ormai ricorrente: meglio essere aperti dodici mesi su dodici a Milano o pochi selezioni week-end a Chelsea? Sono sempre più i progetti espositivi che scelgono questa seconda opzione, investendo le proprie energie in eventi organizzati per il pubblico e i collezionisti della grande mela. Clen Gallery è un progetto di Clelia Zolli, italiana d'origine, ma di base a New York, e parte dalla necessità di mettere in dialogo tra loro fashion, design ed arte contemporanea, e di organizzare show in luoghi di prestigio della città, cercando il giusto punto di contatto di volta in volta tra venue e progetto espositivo.
La sede scelta per questo appuntamento è il Rogue Space, al nono piano del Wolf Building, storico palazzo sulla ventiseiesima di Chelsea. Per quest'ultimo appuntamento Clelia Zolli, oltre a presentare una selezionata serie di abiti da lei realizzati, ha scelto di mostrare opere di Alberto Baccari, Alfredo Rapetti Mogol, Alice Pazzi, Erika Trojer, Francesca Carallo, Francesco Mian, Francisco Uceda, Kevin Berlin, Marisa Notarianni, Matt Mattingly, Monica Olea, Paolo Campagnolo, oltre a Salvo Biondo e Rabarama.
Da segnalare soprattutto i dipinti di Kevin Berlin, molto attivo sin dagli anni ottanta e presente nelle collezioni di molte star hollywoodiane, non ultima quella di Leonardo Di Caprio; le stampe 3D e composizioni di cartucce di fucile di Erika Trojer; gli iCandy di Francisco Uceda, autoritratti fotografici in cui l'artista associa declinazioni della personalità all'assunzione di dolci industriali tipici della cultura americana. Il tutto per 4 brevissimi giorni: noi documentiamo con la fotogallery…
– Francesco Lecci
Clen Gallery
Rogue Space
508 W 26th street – New York
http://clengallery.com
A lezione di gusto e nomadismo da Clen Gallery
---
La VOCE di New York
[18 Apr 2015 | 0 Comments | 6899 views]
The Energy of Emotions è la mostra d'arte contemporanea che la galleria nomadica Clen Gallery ha portato al Rogue Space, nel cuore di Chelsea: fashion, arte e design, ma
anche un momento benefico dedicato alla lotta contro il cancro al seno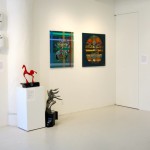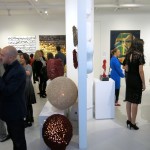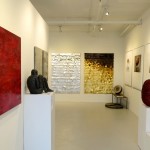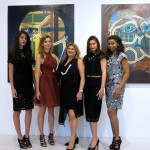 Clen Gallery, New York – Al centro della foto Clelia Zolli
The Energy of Emotions è la collezione di arte, moda e design che la Clen Gallery, galleria nomadica da sempre in prima linea nel sostenere la grande arte espressiva, ha presentato a New York. Di proprietà della fashion designer Clelia Zolli, per questo evento la Clen Gallery ha scelto di essere ospitata al Rogue Space, nello storico Wolf building, cuore pulsante dell'art district di Chelsea. Le opere esposte portano la firma di quattordici artisti coinvolti, tra pittori, scultori e artigiani noti per la loro unicità.
Impossibile ignorare il grido di dolore proveniente dai proprietari di gallerie d'arte seriamente stressati dai sempre più alti costi di affitto e dal peso fiscale che sono costretti a sostenere per il mantenimento delle proprie attività. Per ovviare al clima di precarietà diffuso, stanno nascendo sempre più progetti che hanno sviluppato il concetto di pop up gallery, ovvero gallerie che organizzano i propri eventi in differenti spazi espositivi, che si spostano durante l'anno di quartiere in quartiere se non addirittura di città in città, senza mai avere una sede fissa. È il caso della Clen gallery, che questo week-end ha fatto capolino a Chelsea con proprio con lo show The Energy of Emotions, una mostra d'arte contemporanea internazionale alla quale è stata aggiunta una selezione di abiti firmati dalla proprietaria della galleria e opere di design.
All'evento, che ha compreso una numerosa presenza di artisti italiani fra cui Alfredo Rapetti Mogol, Francesco Mian, Alberto Baccari, ai quali si sono aggiunti le opere di Kevin Berlin, Mary Mattingly e Monica Olea, non poteva mancare un momento benefico: il 10% di tutte le vendite realizzate attraverso l'opening è stato donato al Memorial Sloan Kettering Cancer Center, fondazione di primo piano nella lotta contro il cancro al seno.
Mostre, Arte contemporanea, Pop up gallery, Clelia Zolli, Rogue Space, Chelsea